hello
A Q&A with new wine called….Q&A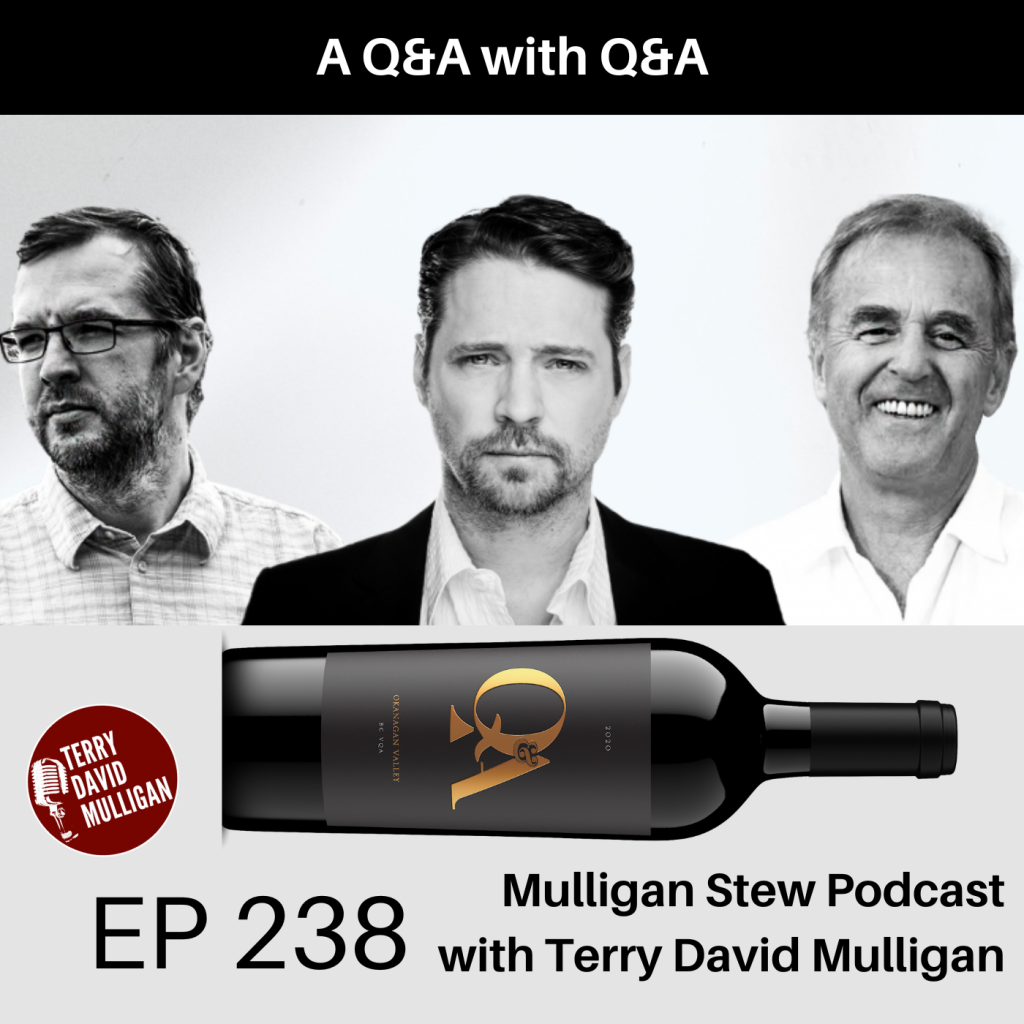 THE SHOW
It's a really great story.
Jason Priestley and I co-hosted/co-produced Hollywood and Vines TV for a number of years with our pal Producer Chad Oakes.
It was shown in over 90 countries via Travel Channel UK (London)
One of our Okanagan shoots was seen in Slovakia by winemaker Michael Mosny and his wife  Martina.
They liked what they saw and heard, came to Canada, checked out the Okanagan Valley, and loved it.
They said goodbye to their friends in Europe, moved to Oliver, and started a winery,  a very successful label called Winemakers Cut.
Several years later I'm doing interviews for Tasting Room Radio in Victoria.  I was impressed with a new winery that had seemingly appeared overnight and could be found in most wine stores and restaurant wine lists. I introduced myself to Michal at the Winemaker's Cut table and he said
"you have no idea why I'm here, do you?"
To my amazement, Michal told me the whole story of how Winemakers Cut ended up on that table in front of him.
We became good friends.
Several years later Michal suggested we make a wine together – to celebrate.  He happened to have the makings of a Bordeaux-inspired blend sitting on oak in his cellar. I asked Jason and he loved the idea. We came up with the name Q&A and things started to roll from there. Well, here we are..

Jason and I have stepped into the world of wine.
The difference is, we're not consumers. We're partners with winemaker Michal and Winemakers Cut in Oliver BC
Jason for several years had been an investor in Black Hills Winery, the maker of the iconic Nota Bene.
After the sale of Black Hills, I continued to search for exceptional terroir capable of producing a peerless Bordeaux-style blend. Throughout this journey, I merged paths with Terry and then Michal. Together, we questioned what we already know, over and over again," said Priestley. "After looking everywhere, all roads lead to one answer and the answer is once again in the Okanagan. This time, the difference is in the details, with a focus on elegance and finesse."
Q&A "I heard about Canadian wine for the first time from Terry and Jason's international television show, Hollywood and Vines TV, and it quickly became my passion  They are the reason why I decided to move here with my wife in 2012 and make wines in the Okanagan Valley."   Slovakian-Canadian Michal Mosny is the proprietor of Winemaker's CUT, an acclaimed winery based in the District Wine Village in Oliver, BC.
Q&A started rolling out in November of 2022. It's just now beginning to show up on select wine store shelves and restaurant wine lists.
Check out qa.wine for more information
It's a Bordeaux-inspired blend ..
45% Cabernet Sauvignon
38% Merlot
13% Cabernet Franc
4% Petit Verdot
100% Yummy!
Here's the first Q&A gabfest on Tasting Room Radio
The complete Zoom interview can be heard on Mulligan Stew Podcast and the video on terrydavidmulligan YouTube Channel
STORIES WE'RE WORKING ON:
Jackson Family buy another Cowichan Winery (Blue Grouse)
Hester Creek Releases
JPCustoms new releases
Eau Claire Single Malt Whisky 006
Winemakers Cut New Releases
Five Bottle Bar –  Book by Jessica Schacht
Township 7 – New Releases