hello

The Wine Diva Brings The Lists
VanWineFest & Randy Ullom: Kendall Jackson (Sonoma)
  

Podcast: Play in new window | Download
THE SHOW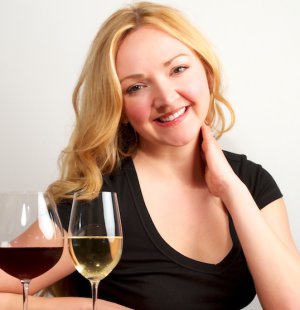 Daenna van Mulligen is The Wine Diva.
Daenna tastes over 2000 wines throughout the year and reviews many of them for her website and various publications.
All of the wines we'll talk  about on this episode can be found  tasted and rated at www.winediva.ca and www.winescores.ca   There are many more to be found there.
(For your convenience we've added the wines we talked about below, as well)
Daenna loves her lists.  As long as I've know her she's been making sensational wine lists.
Daenna Van MulligenFor this week's show she's ready to talk about
Top 100 (under $20)
Top 50   (Over $20)
Bubbles
Top 100 ($20 and under)
 Mt. Boucherie Estate Winery Gewurztraminer, British Columbia
Harper's Trail 'Thadd Springs Vineyard' Rose, British Columbia
Santa Carolina 'Carolina' Reserva Pinot Noir, Calsablanca Valley, Chile
Township 7 Vineyards & Winery Muscat 'Rock Pocket Vineyard', Okanagan Valley BC
Masi Passo Doble, Tupungato Argentina
Top 50 (Over $20 & 91 pts)
 Rust Wine Co. Syrah, Okanagan Valley, BC
Vanessa Vineyard Meritage, Similkameen Valley BC
Freemark Abbey Cabernet Sauvignon, Napa Valley, California
Tantalus Vineyards Old Vines Riesling, Okanagan Valley BC
Bartier Bros. Cabernet Franc, Okanagan Valley BC
Bubbles (From The Queen of The Bubbles)
Blue Mountain Vineyard and Cellars Blanc de Blancs, Okanagan Valley $40
Meyer Family Vineyards Method Traditionnelle Extra Brut, Okanagan Valley $40
Fitzpatrick Family Vineyards 'Fitz' Brut, Okanagan Valley BC  $33
Chandon Rose Brut, California  $32.99
Vaporetto Brut Prosecco DOC, Veneto Italy  $18.99
Bride Valley Vineyard Brut Reserve, Dorset, UK  $47.00
Harry Hertscheg  – (Executive Director  41st Vancouver International Wine Festival)
Vancouver International Wine Festival has been described as "the largest wine festival in the Americas" with 25,000+ admissions. It is Canada's premier wine show and widely considered to be one of the best wine events in the world. At age 41, it is also among the oldest.
Its slogan is "The Wine World is Here". For the past six years, VIWF has been voted the #1 Food, Wine & Hospitality Event in Canada by New York's BizBash.
41st annual (founded 1979)
8 days, Feb 23-Mar 3 (Bacchanalia Gala, Feb 23)
25,000+ admissions
16 countries
160 wineries; including 53 from featured region California
54 events (20 are California events)
1,500 wines projected, including an estimated:
42,000 bottles poured and/or purchased.
Harry Hertscheg is the perfect guy to guest here as he loves his VanWineFest numbers  plus he's been on TRR many times and we seem to have developed a "shorthand" in getting through all the information the festival contains.
Most importantly, California is the featured wine region this year.  After all the fires, droughts then  floods they could use all the love we have to offer.
They were the first ever featured region via Robert Mondavi Wines and Vancouver is the closest international market to California.
Remember, one of the ways we can help them recover from the disasters is to buy their wines and send our support.  California is the single most popular wine region in BC.  Now is when they need us most.
But first, you have to have a ticket to get in.  Harry has some ideas for you.  How to get in and how to work the room.
 Kendall-Jackson/Winemaker Randy Ullom
"I look at all of the vineyards we own, and all of the individual lots of wines that we make, and the thousands of barrels we have sitting in our cellar and sometimes I think, you gotta be kidding me! After I've sufficiently recovered from my daily panic attack, I take off my coat, dig in my heels and take it one barrel at a time. It's a rewarding job that I love."
 Randy Ullom
 Hired by Jess Jackson in 1992 as Winemaker for some of their smaller and international vineyards, Randy was handed his most prestigious assignment in 1997 – Winemaster for Kendall-Jackson Winery.
A native of Ann Arbor, Michigan, Randy became interested in wine during a three-year stay in Chile, while on sabbatical from college in the early 1970s. His stay inspired a cross-country trek through Chile's vast wine-growing regions. On his return to the United States, he entered Ohio State University to study crop production with a specialty in Viticulture and Enology and received his degree in 1975.
After six years as a vineyard manager and Winemaker in Ohio and upstate New York, Randy moved to California to become associate Winemaker at De Loach Vineyards in Sonoma County. He was promoted to Winemaker and Vice President in 1991. The wines produced during his tenure were consistent gold medal winners at wine competitions.
Dude looks like a Sherriff from Dodge City..Oversees the growing and creating of 5 Million cases of wine from 35 labels. (check their website below)
His job includes  working with wines grown in Sonoma, Chile, Bordeaux, Australia and Italy.
This is a fun interview..with lots of information on their wines.  We love these wines..and why not?  They take such great care in their craft!!
See for yourself as Randy will be heading for this years VanWineFest
  

Podcast: Play in new window | Download
STORIES WE'RE WORKING ON
New Wineries to keep an eye on
Kutatas – Salt Spring Island
Best of BC's Field Blends