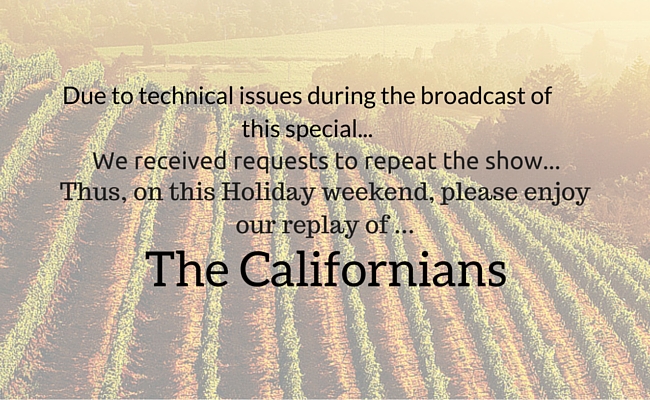 Due to technical difficulties with the original broadcast of this show we are replaying it for you…
They're baaaack!!  THE CALIF0RNIANS!!
Cannonball/Merryvale/Lange Twins/Gloria Ferrer & St Francis and as a one off St. Urbans-Hof
Podcast: Play in new window | Download
The SHOW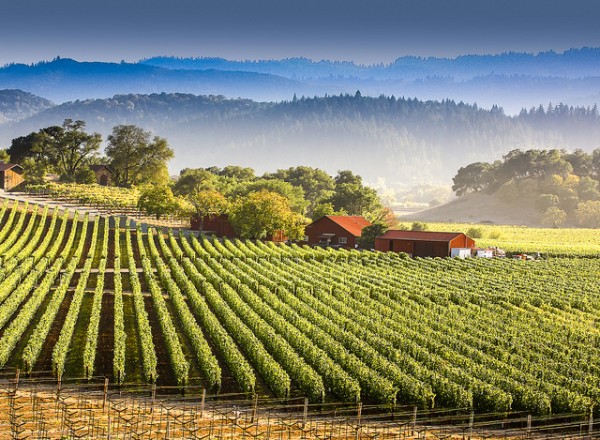 Once a year our winemaking friends in California pack up the latest releases and tour "up North"
Canada is one of their very best customers and it's their way of thanking us, with a gentle reminder that California wines are always out there.
Like a wet hug on a dry day.
Here's the line – up…
Cannonball/Angels and Cowboys  –  Yoav Gilat(Founder/CEO)  Healdsburg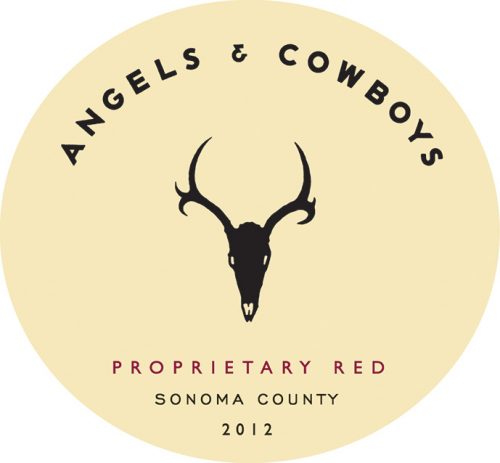 The Cannonball dive is a dive for the people.  It doesn't discriminate against body type, race, religion, political affiliation, social status, or fashion sense.  And if you've never done a Cannonball then you'd better just shut down this computer, go find a body of water, and dive in!  When you're jumping into the water on a beautiful summer day, with nothing on your mind except leaping high, balling up tight, and making a splash that is going to get as many people wet as possible, that moment you're in the air might be the best feeling you can have with your swimsuit on.
Cannonball exists because of 2 founding partners – Yoav Gilat and Dennis Hill.  Visionary Yoav brims with more energy than a speeding hummingbird as he oversees the entire Cannonball operation. He brings 20 years of experience in consumer goods and beverages and fell in love with Sonoma and Mendocino when providing strategy/marketing to Blackstone Winery. Fed up with the over-priced, stuffy wine scene, Yoav made it his mission to produce a range of "serious wines that don't take themselves too seriously".  He wants you to enjoy the expertly crafted wines whilst being transported back to a time when the only point in life was to have fun. "Dive in and share a splash". This explains the concept behind the packaging and brand.
Pssst! If you find Angels and Cowboys Rose..buy it. Buy it all.. it's that good.
Merryvale/Starmont – Rene Schlatter (Owner/CEO) St Helena

Right across the street from Taylor's Refresher (now called Gott's) is Merryvale.  1000 Main Street  St Helena
Rene Schlatter and his ever growing family have created wines that get better and better each year.
What started as award winning  Merryvale wines has now grown to a second label Starmont.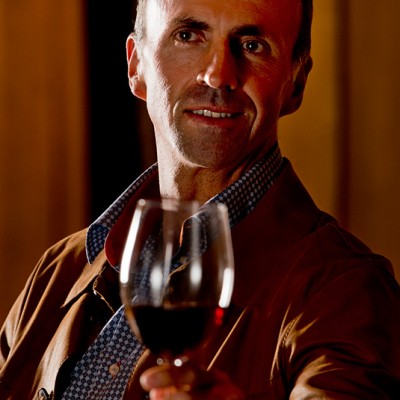 A native of Switzerland, René has lived in the U.S. since 1987.  Since taking the helm of the company in 2008, René has made significant contributions to Merryvale's sales, marketing, finance, vineyard acquisitions and farming improvements — with particular focus and interest in the quality and expression of each individual wine and vintage.
In recognition of the success of the business, Wine Enthusiast magazine honored René with its prestigious "Person of the Year" Award in 2011.Presented at its Annual Wine Star Awards, the magazine included these comments: "Since 2008, the president of Napa's Merryvale Vineyards has pioneered green initiatives while preserving the winery's family legacy and excellence in producing Cabernet Sauvignon and Chardonnay."
"I enjoy drinking wines from all over the world – Bordeaux, Burgundy, Tuscany, Switzerland and, Napa Valley. No matter what the origin I look for purity of fruit, personality, character and a sense of place. For a wine to be great it must stand the test of time."
Lange Twins  –  Joseph Lange  (International sales/family member)  Lodi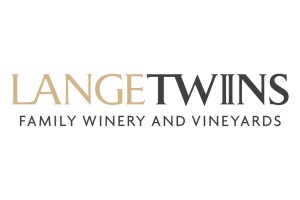 Notes from Randall and Brad Lange
During the 1870's  Great-Grandparents, Johann and Maria Lange, settled in Lodi and began a family farm growing non-irrigated watermelons with their son, Grandpa Albert. The farm grew year over year and by 1916 they had the  family's first grape-ranch. It was on this ranch where their  dad, Harold, was born in 1920.
Grandpa and Dad's farm expanded to include the River Ranch and the DeVries Road Ranch, where the family was raised. They  continued the tradition of working the vineyards and in 1974  decided to farm on our own. It was an exciting time for them because as they grew their business, their  family grew as well. Both married (Randall to Charlene and Brad to Susan) and by 1982 the fifth generation was here! Between our families we have five kids — Marissa, Aaron, Philip, Kendra and Joe.
As the kids grew up on the River Ranch they developed an appreciation for winegrowing by working summers and harvest . After college they each decided to come back to the family farm, so they took the next step and built a winery in 2006.
Today they all have unique responsibilities within the winery and viticulture teams, continuing their agricultural roots and growing their winery and wine brands. As fifth generation winegrowers they look forward to working with the sixth!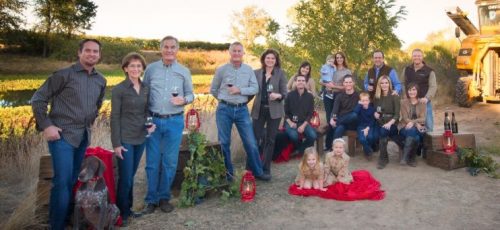 Gloria Ferrer – Juan Furne  (President  Friexenet Atlantic)

Back in the early 80's there were only a handful of winegrowers planting Pinot Noir in Carneros. And yet, the Ferrer Family knew the key to a world-class méthode champenoise wine would be Pinot Noir.
The Gloria Ferrer winemaking team's quest for perfection takes them to Champagne where they manage to acquire Pinot Noir and Chardonnay clones.
Gloria Ferrer is not only the first sparkling wine house in Sonoma Carneros, but also the first to plant Champagne clones and the first to plant in Carneros.
Almost thirty years later, with 335 acres under vine, the estate vineyards at Gloria Ferrer produce Pinot Noir and Chardonnay that rival some of the world's finest.
St Francis  – Chris Silva (President/CEO)  Sonoma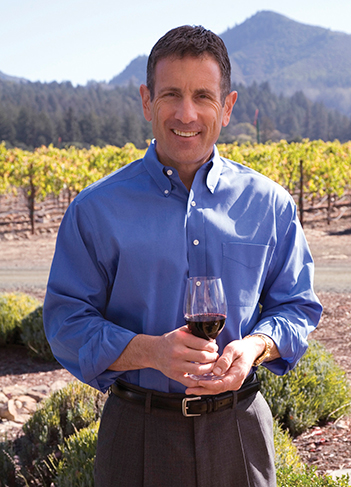 Fifth-generation Sonoma County native, Christopher Silva is firmly rooted in Sonoma County agriculture. He was raised in a family of Petaluma dairy farmers, and nine years after graduating from Loyola Law School in Los Angeles, he retired from practicing law to join St. Francis Winery. At the age of 38, he became President & CEO of St. Francis in 2003. He understands firsthand that a farmer's footprint and intimate knowledge of the soil, microclimates and terroir of the region are the most important ingredients for healthy vines.
As President & CEO of St. Francis Winery & Vineyards, Chris has a specific focus: crafting world class Sonoma wine. St. Francis is best known for luscious, elegant, fruit driven Sonoma County Chardonnay, Cabernet Sauvignon, Merlot, and "Old Vines" Zinfandel.  Additionally, St. Francis was named "#1 Restaurant in America" by Open Table  in 2013 and 2015 in recognition of its farm to table wine and food pairings offered on site to Winery visitors each day.
"Our time at St. Francis will not be measured in years. It will be measured by the contributions each one of us makes—as individuals—to constantly improving the quality of our grapes and our wines. 'Good enough' is contrary to our mission."
Chris gives us a Master Class in St Francis ZIN.
http://www.stfranciswinery.com/
St Urbans-Hof  –  Nik Weis  (Owner-GM)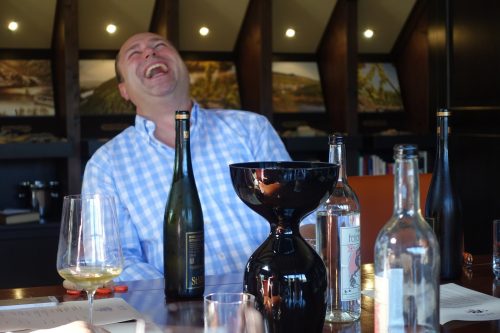 and finally..from half a world away – in Germany's Mosel Region comes Nik Weis Owner and GM of St. Urbans-Hof.
The winery St. Urbans-Hof is one of the most renowned wineries of the growing region Mosel and distinguishes itself by the particularity of owning best positions both on the Moselle and on the Saar. The Weis family who founded the winery in 1947, always focused on quality, which was almost a rarity, especially in the seventies and eighties. Authenticity is for Nik Weis, the grandson of the founder doing a very important feature. According Riesling is exclusively developed, the intervention in the vineyard and cellar are as gentle as possible. The nursery of the estate,  is among the most important in Europe.
It was a privilege to be poured some spectacular wines, including the Wiltinger Alte Reben 2014, which arrives in early spring, as well as some of the older vintages dating back to 1990 from Ockfener Bockstein, Laurentiuslay, Goldtropfchen  and a drop of Eiswein or two.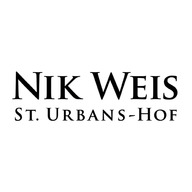 Podcast: Play in new window | Download
STORIES WERE WORKING ON
Bloom 2016 festuring Ann Sperling (Sperling). John Skinner (Painted Rock) Chris Jentsch (cc Jentsch) and Gavin Miller (Upper Bench)
A feature on Val Tait & Bench 1775
Jason Priestley discusses Private Eyes. Van Helsing, wines  & Hollywood Hair.