hello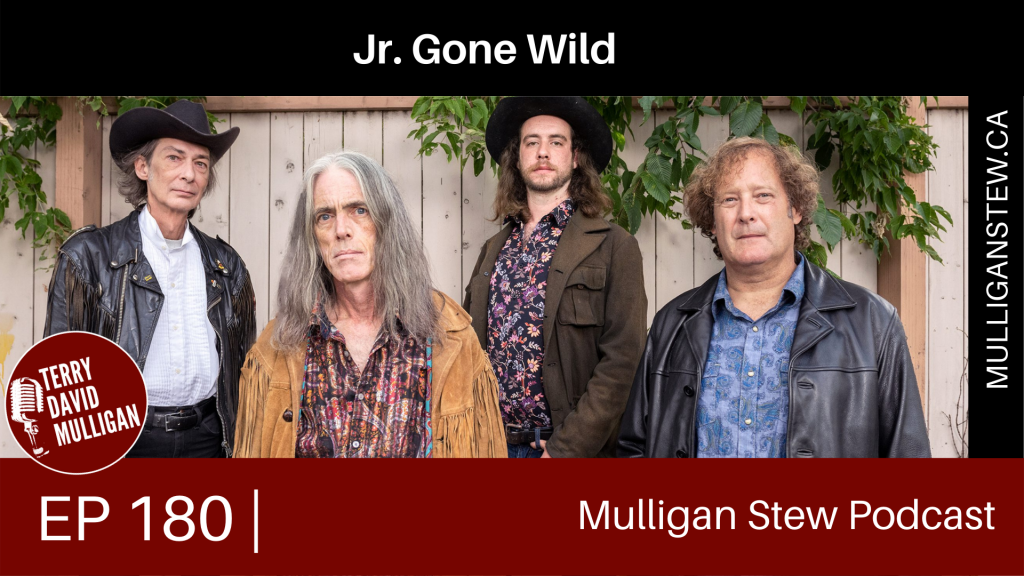 Guest is Founder of Jr Gone Wild – Original member Mike McDonald
The band was founded in Edmonton in 1982.
They recorded their first album, Less Art More Pop, in 1986.
Junior won an Alberta Recording Industry Award for best rock band in 1994.
They recorded several albums, leading up to Simple Little Wish, which was released in early 1995. The band broke up later that year.

Jr. Gone Wild reformed in 2013 and played a reunion show that was a wild success and the band started to perform live again and re-released their debut album Less Art More Pop!
From 1983-1995, Jr. Gone Wild helped introduce Canada to a new musical genre, alternative country. Over the course of five acclaimed albums, the Edmonton, Alberta band fused elements of folk and rock with a punk attitude, while building a devoted fan base through epic live shows. Now, after 25 years, original members Mike McDonald (guitars/vocals), Steve Loree (lead guitar), and Dave "Dove" Brown (bass) have reunited with McDonald's nephew Quinton Herbert on drums for the really good Still Got The Jacket.
Our guest and original member Mike McDonald brings the stories from all those years. Plus four tracks from the album which is released November 12th.
Dodge -Behind the Wheel – Girl in the crowd – Fly at Night!
Junior are doing a family-friendly acoustic show on November 20 in Edmonton The Starlight Room with Forbidden Dimension etc It's free but you have to get a ticket online, the rules man. Please invite your friends and family. It's the same day as their  album release show and they  want all their friends with kids to have a chance to hear them  and get a little Jr. Gone Wild t-shirt
Hi Calgary, there are still a few tables for Jr Gone Wild  Sunday, November 21st. It's an album release show at the Ironwood but they are going fast so they have added a second matinee show.
Jr Gone Wild – November 21 at 2:00 and at 7:45
Their  good buddy Boots Graham will open both shows with his lonely guitar.