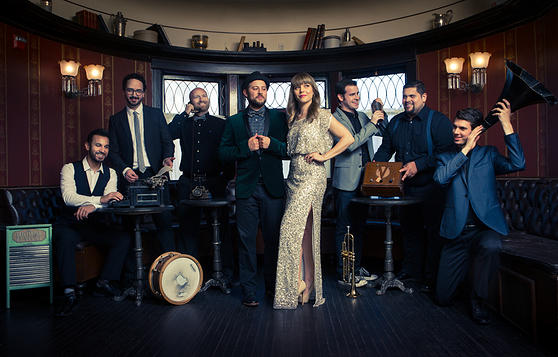 Lots of great Saturday Night music – beginning with…
The Original Fleetwood Mac
The Rolling Stones
Great new solo music from Rhiannon Giddons from Carolina Choc Drops
Delbert McClinton.
The amazing Annie Lennox (acoustic)
Fourteen glorious live minutes from Little Feat
Los Lobos. Mimi O'Bonsawin. Alison Krause and Robert Plant.


Our guest is Zack Lupetin..leader of this wild musical collective.  http://www.dustbowlrevival.com/   @dustbowlrevival
"In a city like Los Angeles, home to musical stars in nearly every known genre, handing out the Best Live Band title is not easy. But the free-thinking local collective Dustbowl Revival's upbeat, old-school, All-American sonic safaris exemplify everything shows should be: hot, spontaneous, engaging and, best of all, a pleasure to hear." — LA WEEKLY
 

The Dustbowl Revival is a Venice, California-based collective that merges old school bluegrass, gospel, pre-war blues and the hot swing of New Orleans to form a spicy roots cocktail. Known for their roaring live sets, Dustbowl bravely brings together many styles of traditional American music. Some call it string band-brass band mash up. Maybe it's called Swing grass or good old Americana. Imagine Old Crow Medicine Show teaming up with Louis Armstrong's Hot Fives and Sevens, or Bob Dylan and The Band jamming with Benny Goodman and his orchestra in 1938. It's infectious, joyous music – a youthful take on time-worn American traditions.

Tell them you heard them on #mulligan stew! @dustbowlrevival
PLAYLIST:
| | | |
| --- | --- | --- |
| Welcome to Mulligan Stew | Host/Producer TD Mulligan | The Stew repeats every Friday at The stroke of Midnight |
| Black magic Woman | Fleetwood Mac | Vintage years |
| Precious | JD McPherson | Let the good times roll |
| Dead Flowers | The Rolling Stones | Sticky Fingers |
| She's got You | Rhiannon Giddons | Tomorrow is my turn |
| Freedom | Lee Harvey Osmond | The Folk Sinner |
| www.CanadaHouse.com | This is Mulligan Stew | Coming UP Eric Clapton/Steve Winwood |
| Giving it upfor your love | Delbert McClinton | Best of |
| playlist www.mulliganstew.ca | The Stew repeats every Friday at Midnight | Special guest Dustbowl Revival |
| Cocaine (live) | Eric Clapton/Steve Winwood | Live from madison Square garden |
| Dixie Chicken (live) | Little Feat | Waiting for Columbus |
| Tripe Face Boogie | Little Feat | Waiting for Columbus |
| Walking on broken glass (Acoustic) | Annie Lennox | Shining Light |
| This is Mulligan Stew – heading for 20 years at CKUA | playlist www.mulliganstew.ca | The Stew repeats every Friday at Midnight after Cam Hayden |
| Betty was Black/Willy was White | Bisquits | The Bisquits |
| She's gone | Doyle Bramhall | Birdnes |
| The Neighbourhood | Los Lobos | El Concionero |
| Stick with meBaby | Alison Krause/Robert Plant | Raising Sand |
| Mulligan Stew @ckuaradio | playlist www.mulliganstew.ca | Tweet @tdmulligan |
| Ginjah | Mimi O'Bonsawin | Mimi |
| I wanna sing | Colin James | Hearts on Fire |
| The Stew repeats Friday nights at Midnight | playlist www.mulliganstew.ca | Coming UP – Dustbowl Revival |
| Zack Lupetin | Leader of Dustbowl Revival | Named Best Live Band in LA |
| Riverboat Queen | Dustbowl Revival | Carry Me Home |
| Zack Lupetin | Leader of Dustbowl Revival | Named Best Live Band in LA |
| John the Revelator | Dustbowl Revival | Carry Me Home |
| Josephine | Dustbowl Revival | Carry Me Home |
| Zack Lupetin | | |
| Standing next to me | Dustbowl Revival | Radio Broadcast |
| Walking to New Orleans | Fats Domino | They call me The Fat Man |
| Thanks and Good Night | | |