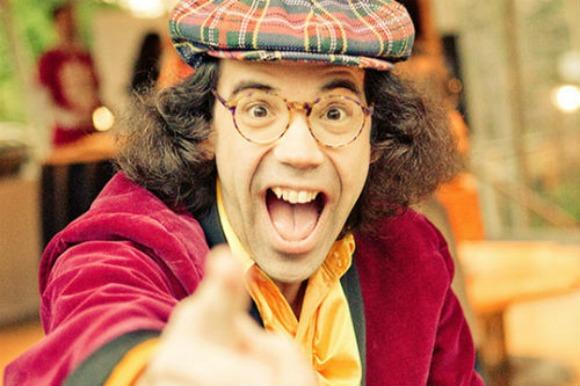 Check out the Line-Up.
Rick Hansen, Anthony Gismondi and The Dirt Farmers.  (They're not a band..they're Dirt Farmers.) 

Podcast: Play in new window | Download
[divider]
THE SHOW    
In 1973, at the age of 15, Rick Hansen's life changed forever. He was involved in an accident that paralyzed him from the waist down. Coming to terms with his new life, he found inspiration from teachers, coaches and family, and set new goals from new dreams. Rick went on to become one of Canada's most decorated Paralympic athletes.
In March 1985, Rick set off from Vancouver to wheel 40,000 kilometres through 34 countries on the Man In Motion World Tour to prove the potential of people with disabilities. His 26-month journey inspired an entire nation to believe anything is possible and moved thousands to make a difference.
After the Tour, he established the Rick Hansen Foundation to find a cure for spinal cord injuries and create more accessible communities.
Since 1988, the Foundation has leveraged the $26 million raised during the Tour into $280 million in investments towards spinal cord research, accessibility projects and quality of life initiatives.


I had the honour of being in the right place at the right time and minutely assisted Rick in living his dream.
We've always stayed in touch and when Rick asked if I'd like to go Sturgeon fishing on the Frazer River in BC I said YES!!
Rick is working tirelessly to preserve what was once a dying breed of fish.
Rick Hansen founded the FRSCS in 1997 in response to the declining population of the prehistoric white sturgeon – a species that had survived virtually unchanged for 65 million years.
The Society has built an award-winning monitoring and assessment program.
Check out the photos..The first sturgeon we caught was 6'5" and the second was 8', over 300 lbs and perhaps 90 years old.
All caught,  tagged and released, of course.

My thanks to our guide for the day
Yves Bisson from BC Sportfishing Group
https://www.rickhansen.com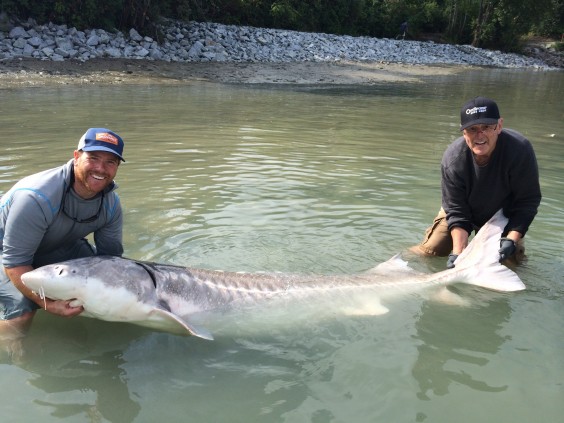 [divider]
Anthony Gismondi

Anthony Gismondi
He's one of the leading authorities on wine in Canada and The World
.
He has been writing on wine since 1983 and has been the weekly wine columnist for the Vancouver Sun since 1989. His reviews are widely read across the country and throughout the international wine community.
He is an executive editor with responsibilities for international wines at Wine Access – Canada's Essential Guide to Wine and Food, as well as a consultant to Air Canada where he assists in the selection of in-flight wines served system-wide by Canada's largest airline.
A writer, broadcaster and speaker, in 2002 he launched a comprehensive wine website
www.gismondionwine.com
that contains a large and growing database of wines and stories chronicling his work and adventures in the world of wine.
He's the co-host of The Best of Food and Wine.
And because he's co-head judge (along with David Lawrason) of this year's
Wine Align National Wine Awards of
Canada
he's the perfect guy to have guest on TRR.
We'll talk about the Wine Awards and especially his list of the top 20 rated wines in BC. (find out who the #1 winery is)
I saved the last question in this two parter to ask about The odious Wine Laws of Canada
Here's Tony's response:
"I think we've got a country full of greedy politicians. We've got a country full of greedy monopoly directors. These people think of themselves first and they've consistently done it now for the last 10 years since we've been trying to change  these laws."
"I think it's outrageous that people in Ontario  cannot buy BC wine but we can buy theirs because we've allowed it
"
www.gismondionwine.com
www.winealign.com
 [divider]
The Dirt Farmers 2014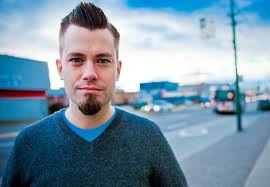 Kurtis Kolt
Wine expert
Kurtis Kolt
organized the annual
Dirt Farmers
pour in Vancouver.
It's his way of saluting the people who work the field, harvest the crops and craft very high quality wines.
Our guests are:
Rhys Pender
– Little Farm   Similkameen Valley 
www.littlefarmwinery.ca
John Weber
– Orofino  Similkameen Valley 
www.orofinovineyards.com
Ty Harlton
– TH Wines  Summerland 
http://thwines.com/
Podcast: Play in new window | Download
[divider]
STORIES WE'RE WORKING ON:
Chef Ned Bell on the Road..heading home.
Our third and final special from New Zealand
John Schreiner's new book. Okanagan Wine Tour Guide