hello
Just the way it worked out.
The  sacred steel of the Campbell Brothers is heard live Friday in Calgary at Festival Hall and Saturday at The Arden in Edmonton.
Then Saturday on Mulligan Stew Chuck and Phillip Campbell guest.
Their latest release is Beyond These 4 Walls.
Also on a busy weekend The Palomino in Calgary welcomes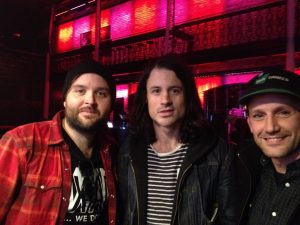 the three amigos Dustin Bentall, Ridley Bent & Leeroy Stagger, they're buds and decided to tour together for 4-6 shows.
After the weekend, they hook up with the Grand Caribou Opry and tour through Winnipeg and the West Coast.
Then they rejoin The Opry head back to Alberta for dates in November.
27th The Horowitz in Edmonton.
28th the Ironwood in Calgary.
29th in Bragg creek Comm Centre
Enjoy!!
 PLAYLIST:
Keep Up Blues
The Rolling Stones
Some Girls (Deluxe)
Hercules
Aaron neville
Uncut (july 2205)
Host
MulliganStew.ca
coming Up Interview with Campbell Bros
Please Come Home
Gary Clark Jr
Live
Key to the Highway/Trouble in Mind
Led Zeppelin
Led Zep 3 (rough Mix)
Why can't we be frinds?
War
Why can't we be friends?
Dumaine St
Trombone Shorty
For True
Break
Mulligan Stew
playlist mulliganstew.ca
Interview with Phillip and Chuck Campbell
Campbell Brothers
On Tour
Campbell Brothers
Live
Tonight at Arden. Edmonton
Interview with Phillip and Chuck Campbell
Campbell Brothers
On Tour
Nobodys Fault but Mine
Campbell Brothers
Beyond These 4 Walls
Interview with Phillip and Chuck Campbell
Campbell Brothers
Tonight at Arden. Edmonton
It's all right now
Campbell Brothers
Beyond These 4 Walls
Embrace another Fall
Robert Plant
Lullaby and ..the ceaseless roar
Break
TDM Mulligan Stew
Coming up Dustin Bentall. Ridley Bent.Leeroy Stagger
Arrow Flight
Boy and Bear
Harlequin Dream
Little Red Rooster
Sam Cooke
The Rhythm and the Blues
Sulphur to Sugercane
Elvis Costello
Secret.Profane.Sugarcane
Host
playlist www.mulliganstew.ca
Coming up Dustin Bentall. Ridley Bent.Leeroy Stagger
Neil Young
Who's going to stand up?
Storytone
Too many people
Paul McCartney
RAM
Look Out Cleveland
Jackie Greene
Endless Highway
Host
coming up dusty. LeeRoy and Rid
Get up Stand Up
Bob Marley
Legend
Back to the Earth
Jason Mraz
Yes
Helpless
kd lang
Recollection (deluxe)
Host
mulliganstew.ca
Take the money and Run
Dustin Bentall
Six Shooter
Interview with Dustin Bentall. Ridley Bent & Leeroy Stagger
Tonight at The Palomino Calgary
Tour dates www.mulliganstew.ca
Bad Day
Ridley Bent
Blam
Another Friday Night
Leeroy Stagger
Everything is Real