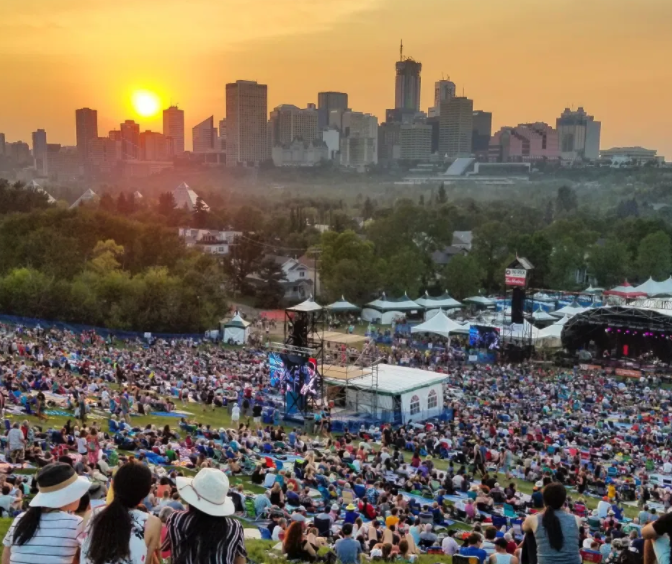 The Stew takes a run at Festival Radio.
This week we celebrate the great Edmonton Folk Music Festival.
My co-host is Elliott Garnier who was the on site producer for the entire festival.
The fans can't gather on The Hill but we can help recreate the feeling.
We had many interviews and live performances to choose from…but here's the final list.
Terry Wickham – Producer of the Festival. He gives us a preview of the new Festival documentary The Hill featuring highlight performances from past years.    www.edmontonfolkfest.org
Nathaniel Rateliff – 3 days after the Jimmy Fallon breakout. (2015)
Rhiannon Giddens – appearing as a solo performer for the first time. Outspoken activist. Gifted artist. The complete memorable conversation can be heard on the MulliganStew Podcast (2017)
Dan Mangan and Blacksmith – a brilliant off-the-cuff acapella song. (2014)
The Bros. Landreth – debuting songs from their new album. Strong performance. (2018)
Mike Farris – Grammy winner. A wicked mix of rock, gospel, and soul. Great voice. (2016)
Michael Franti – who better to close the show.  He returns to Edmonton where he spent some of  his teen years. Biggest audience we've seen at the CKUA tent. Brings the Joy of The Hill (2018)
Enjoy!!  Do you own Hill!


PLAYLIST:
| | | |
| --- | --- | --- |
| Mulligan Stew | Aug 8 2020 EFMF | |
| Welcome to The Stew TDM and Elliott Garnier | Celebrating past guests from Edmonton Folk Music Festivals | www.mulliganstew.ca |
| Knock on screen door | John Prine | tree of forgiveness |
| Terry Wickham interview | Producer of EFMF | |
| SOB | Nathaniel Rateliff and the Night Sweats | Nathaniel Rateliff and the Night Sweats |
| Nathaniel Rateliff Interview | www.mulliganstew.ca | |
| I'd be waiting (live) | Nathaniel Rateliff – Live in ckua tent | EFMF |
| www.deanehouse.com | www.river-cafe.com | |
| NEXT on Mulligan Stew | Rhiannon Giddens | |
| Midnight Rider | Sharon Jones and the Dap Kings | Sharon Jones and the Dap Kings |
| knockin' | Carolina Chocolate Drops. Luminescent Orch | EP – CCD and LO on nonsuch |
| Rhiannon Giddens Interview 2017 | Complete interview on MulliganStew Podcast https://mulliganstew.ca | |
| Water Boy | Rhiannon Giddens | Tomorrow is my turn |
| Rhiannon Giddens Interview 2017 | Complete interview on MulliganStew Podcast www.mulliganstew.ca | |
| Freedom Highway | Rhiannon Giddens | Freedom Highway |
| Rhiannon Giddens Interview 2017 | Edmonton Folk Music Festival – on Mulligan Stew ckua | |
| Better get it right the first time | Rhiannon Giddens | Freedom Highway |
| www.mulliganstew.ca | TD Mulligan and Elliott Garnier | |
| don't let go | colin linden and luther dickinson | Amor |
| Dan Mangan and Blacksmith interview 2014 | Edmonton Folk Music Festival – on Mulligan Stew ckua | |
| So much for everyone (live) | Dan Mangan and Blacksmith | Live at EFMF |
| Mulligan Stew | tdmulligan and Elliott Garnier | |
| The Brothers Landreth Interview | Mulligan Stew | |
| Made up Mind (live) | The Bros Landreth | |
| The Brothers Landreth Interview | www.mulliganstew.ca | |
| Got to be you (live) | The Bros Landreth | |
| www.mulliganstew.ca | NEXT = The Mikes Farris and Franti | |
| Mike Farris Interview 2016 | Edmonton Folk Music Festival – on Mulligan Stew ckua | |
| Jonah and The Whale (live) | Mike Farris and Paul Piggat | EFMF |
| Mike Farris Interview 2016 | Edmonton Folk Music Festival – on Mulligan Stew ckua | |
| Mike Farris (live) | Edmonton Folk Music Festival – on Mulligan Stew ckua | |
| www.coyotesbanff.com | Elliott Garnier and TDMulligan | |
| mulligan stew at EFMF | www.mulliganstew.ca | |
| enjoy every second (live) | Michael Franti | |
| Michael Franti Interview | Edmonton Folk Music Festival – on Mulligan Stew ckua | |
| Be with you (live) | Michael Franti | |
| | | |