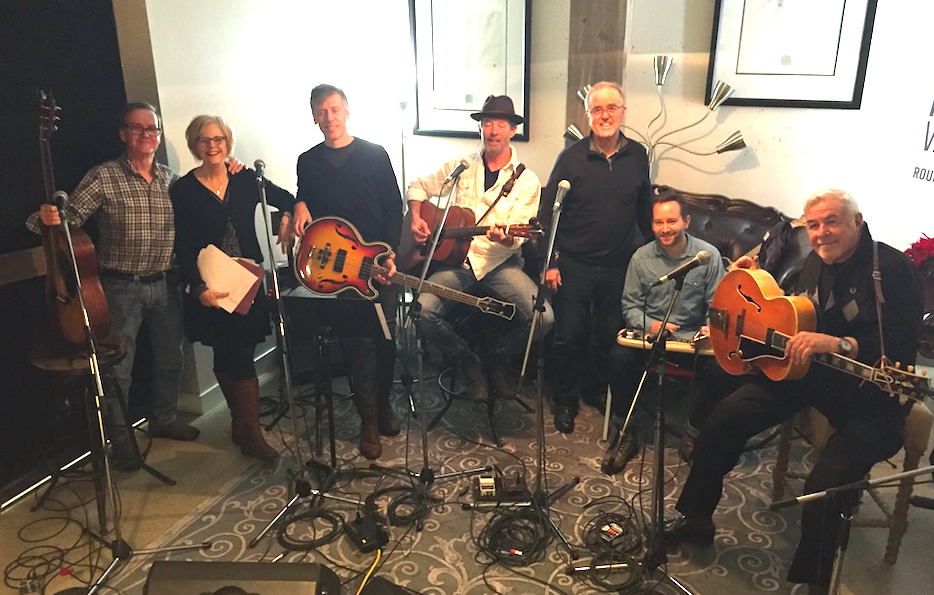 It all started as a Christmas Tradition many years ago at the CBC.
Christmas songs and stories exchanged in a studio with artists who knew and
respected each other.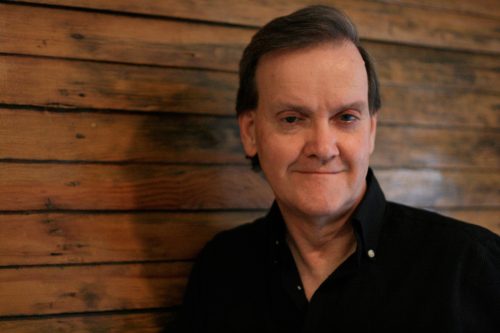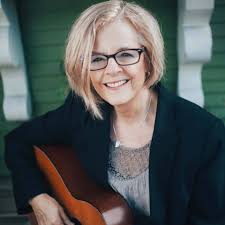 were in that studio years ago and over the years
we've always talked about keeping that tradition alive.
(As always in memory of our producer Susan Englebert, who lost her battle
with Cancer)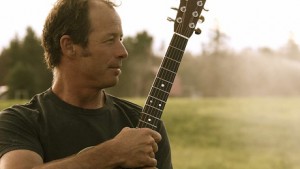 When Barney Bentall started doing Christmas Food Bank Tours with his Cariboo
Express the possibility of gathering once again became a reality.
On the next Stew, a repeat of Christmas in the Round – Year One.  Recorded
exactly 3 years ago in the boardroom at Roundhouse Radio in Vancouver.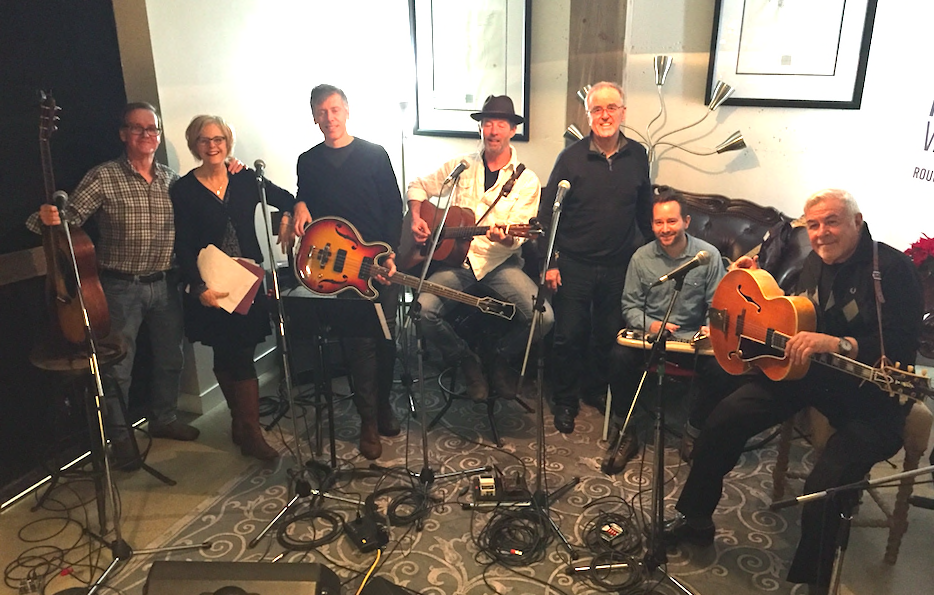 The Rounders are:
Shari Ulrich – iconic singer, songwriter, and musician.
Roy Forbes – Host of Roy's Record Room and much-admired artist.
Barney Bentall – He's everywhere and always making great music. Bringing
joy!
Shaun Verreault – formerly Wide Mouth Mason. String Slinger. Sings like a
bird
Jim Byrnes – St Louis born…West Coast raised. Carries the blues with him.
Good Actor.
Craig Northey – co-founder of The Odds. Touring with Steven Page. Gun for
hire. Solid Songwriter.  Wicked funny.
Everyone brings a favorite Christmas song and personal story to exchange.
Fun was had by all…  Hope you like.
Susan would have loved it.
Merry Christmas all!
-TDM
PLAYLIST:
| | | |
| --- | --- | --- |
| The Christmas Stew TWO | Dec 22 2018 | |
| Merry Christmas from The Christmas Stew Part Two | www.mulliganstew.ca | www.ckua.com |
| Fairytale of New York | The Pogues | if i should fall from Grace with God |
| maybe this christmas | ron sexsmith | a Winter's Night (Nettwerk) |
| Christmas must be tonight | Amy Helm – The Wood Brothers | Spotify Singles |
| Merry Christmas baby | Steve Pineo | steve pineo christmas album |
| www.deanehouse.com | Special guests – Christmas in the Round. Barney Bentall etc | |
| Santa, bring my baby back to me | Jeff Healey | songs from the road (live) |
| On a ChristmaS day | Long John Baldry | Stoney Plain Christmas Blues |
| Please come home for Christmas | Aaron Neville | Soul Christmas |
| Ho Ho Ho | Whitehorse | Winter Classic |
| Coming UP – barney. Shari. Roy.Shawn.Craig.Jim | Christmas in the Round | Hour Two |
| Great day in December | Joan Osborne | Christmas means Love |
| Lonesome Christmas | Eric Clapton | Happy Christmas |
| Christmas ain't ChristmaS (without the one you love) | Aretha Franklin | This Christmas |
| Winter Wonderland | Harry Connick Jr | Acoustic Christmas |
| Coming UP – barney. Shari. Roy.Shawn.Craig.Jim | Christmas in the Round | |
| Rudy | Be Good Tanyas | A winters Night |
| Christmas Card – from Minneapolis | Tom Waits | Blue Valentine |
| The Christmas Stew TWO | NEXT – A Tradition continues – Christmas in the Round | |
| Christmas in the Round | Recorded at Roundhouse Radio | |
| Jim Byrnes | Christmas in the Round | |
| Craig Northey – Odds | Christmas in the Round | |
| winter wonderland | booker T and the mg's | best of |
| Shari Ulrich | Christmas in the Round | |
| Barney Bentall | Christmas in the Round | |
| This is Christmas in the Round | on The Chistmas Stew | |
| Shaun Verreault | Christmas in the Round | |
| Roy Forbes | Christmas in the Round | |
| christmas time is here | Jerry Douglas | same |
| Shari Ulrich | Christmas in the Round | |
| Santa Claus is back in town | Shari. Riy. Shaun. Craig. Barney. Jim | Christmas in the Round |