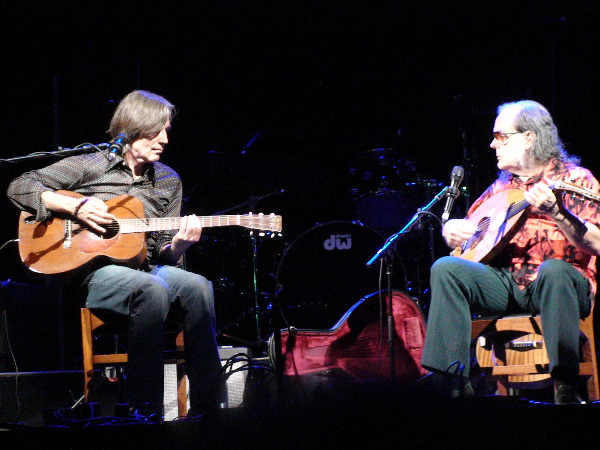 The usual mix of rock blues and roots.
Plus a reminder from bill henderson why he wrote and recorded Take Back This Land.
Plus a brilliant 15 minutes of Jackson Browne and David Lindley along with percussionist En Vivo Con Tino live in Spain.
They completely remake Jacksons songs. And yet theyre still the same.
Have a great weekend
-TDM
PLAYLIST:
| | | |
| --- | --- | --- |
| TDMulligan/Mulligan Stew | Playlist www.mulliganstew.ca | |
| dont make them like they used to | The harpoonist and the axe murderer | a real fine mess |
| pan handler | ben rogers | the bloodred yonder |
| somethin else | eddie cochrane | very best |
| rip this joint | the rolling stones | exile on main street |
| TDMulligan/Mulligan Stew | www.canadahouse.com | |
| astral weeks/i believe ive transended (live) | Van Morrison | Live from Hollywood Bowl |
| I aint ever satisfied (live) | Steve Earle | Live in Calgary/Cpperhead Road rarities |
| TDMulligan/Mulligan Stew | Playlist www.mulliganstew.ca | Coming UP SOB.GOGO and heavy Lennie |
| Gloria (loive) | The Doors | Boxed Set |
| repo man | Ray Lamontagne | God willing and the creek don't rise |
| SOB | Nathaniel Rateleff and the night sweats | Live of Jimmy Fallon |
| TDMulligan/Mulligan Stew | coming up Bill Henderson | |
| foolin myself | David GoGo | Vicksburg Call |
| Never Mind | Leonard Cohen | True Detective soundtrack |
| TDMulligan/Mulligan Stew | Playlist www.mulliganstew.ca | |
| planet love | lee harvey osmond | beautiful scars |
| crocodile rock (live) | elton john | Goodbye yellow brick Road |
| killing floor | electric flad with mike blookfield | From his head etc |
| mannish boy (live) | The rolling stones | rarities (el mocambo live) |
| TDMulligan/Mulligan Stew | Playlist www.mulliganstew.ca | coming UP Bill henderson |
| twist my arm (live) | The Tragically Hip | fully completely |
| Bill henderson Interview | Bill Henderson & Chilliwack | Take back this Land |
| TDMulligan/Mulligan Stew | Playlist www.mulliganstew.ca | NEXT WEEK – Rita Coolidge |
| Running on empty (live) | Jackson Browne.David Lindley.en vivo con tino | Love is strange |
| Love is strange/Stay (live) | Jackson Browne.David Lindley.en vivo con tino | Love is strange |
| TDMulligan/Mulligan Stew | www.coyotesbanff.com | |
| Radio On | Jim Foster | single |
| Wild Roses | Ben Rogers | the bloodred yonder |
| | | |