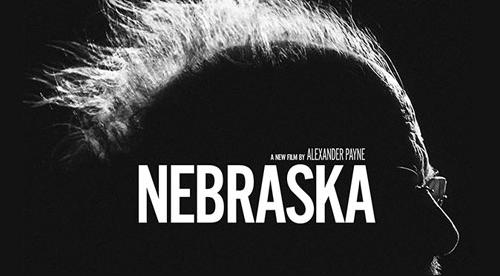 "Payne has never before been this melancholy, or this sincere. Nebraska looks into America's soul and finds a troubling emptiness."
–Peter Howell ,Toronto Star


Director Alexander Payne (Sideways, The Descendants) takes the helm for this black and white road trip drama starring Bruce Dern as a tempestuous Missouri father who's convinced he's won a million dollar magazine sweepstakes, and Will Forte as the son who grudgingly agrees to drive him to Nebraska to claim his winnings. Bob Odenkirk and Stacy Keach costar. ~ Jason Buchanan, Rovi
[divider]
Interview with Director Alexander Payne and Terry David Mulligan:
Director, producer and screenwriter Alexander Payne was born in Omaha, Nebraska. Of Greek descent (the family name was changed from Papadopoulos), his parents George and Peggy ran a Greek restaurant. He has two older brothers.
Alexander attended Stanford University, where he majored in Spanish and History. He then went on to study film at UCLA Film School. His university thesis film was screened at the Sundance film festival, which led to him being backed by Miramax to write and direct Citizen Ruth (1996). Payne prefers to have control over his movies, from scripts to cast.  known for the films Election, About Schmidt, Sideways and The Descendants. His films are noted for their dark humor and satirical depictions of contemporary American society.
Often sets his films in and around Omaha, Nebraska
Frequently films scenes at natural history museums
Frequently casts Phil Reeves
Frequently uses actual people in roles of minor characters in his movies (real life policemen for policemen, real life restaurant servers for servers, real life teachers for teachers)
Frequently incoporates telephone monologues as a dramatic device
His films often revolve around adultery in marriage and relationships
His films often deal with a sense of loneliness depicted by the main character
Features characters that endeavor for self-fulfillment and individualism (Sideways (2004), About Schmidt (2002)).

Interview with Actor Will Forte and Terry David Mulligan:
x

Forte was age 32 before he came to the public's attention on 
"Saturday Night Live"
(1975), but had been working in comedy since 1997. Forte is the son of artist Patricia and financial broker Orville Willis Forte III (divorced) and has one older sister, Michelle. A creative and artist child, he was an athlete (football and swimming) in high school and voted Best Personality at Acalanes High School. After graduating from UCLA with a degree in History, Forte had a brief career at a brokerage house before deciding to try comedy. Although he rarely performed stand-up, he joined the world- famous "Groundlings" and was hired as a writer for the series, 
"The Jenny McCarthy Show"
 (1997), The Army Show, and The David Letterman Show. He eventually caught the attention of Carsey-Werner executive 
Tom Werner
 when he wrote a pilot about two childlike idiot brothers (eventually turned into the film, 
The Brothers Solomon
 (2007)) and was hired for the shows, 
"3rd Rock from the Sun"
 (1996) and 
"That '70s Show"
 (1998).
In 2002, Forte moved from his home state of California to New York City to join 
"Saturday Night Live"
 (1975) as a writer and cast member. Although known as shy and reserved in his personal life, Forte was one of the individuals responsible for the shows move to absurd, surrealist comedy. Along with voice-over acting, guest appearances on television and small roles in films, Forte had his biggest opportunities to be a movie star with films he wrote. Forte wrote the screenplay for 
The Brothers Solomon
 (2007) (and had the leading role of childlike "Dean Solomon") and played the title role and co-wrote the SNL film 
MacGruber
 (2010). Although both films were given small budgets ($10,000,000 each), the were both considered box-office and critical failures, although they do have a cult following.
After MacGruber's theatrical release, Forte left SNL for personal and professional reasons, although he has returned as a guest performer. Forte has had a recurring role on the series 30 Rock and made numerous other guest appearances on other TV comedies. Since leaving SNL, he has also increased his work as a voice artist and appeared in 5 movies (A Good Old Fashioned Orgy, Tim and Eric's Billion Dollar Movie, Rock of Ages, That's My Boy, and The Watch).
Since 2012, he has moved into dramatic and straight roles on a television pilot titled Rebounding by the producers of Modern Family and Irish film Run and Jump. In August 2012, he was cast (and first choice) in the much anticipated Alexander Payne film Nebraska, despite rumors that higher profile actors such as Casey Affleck and Paul Rudd were interested in the role.