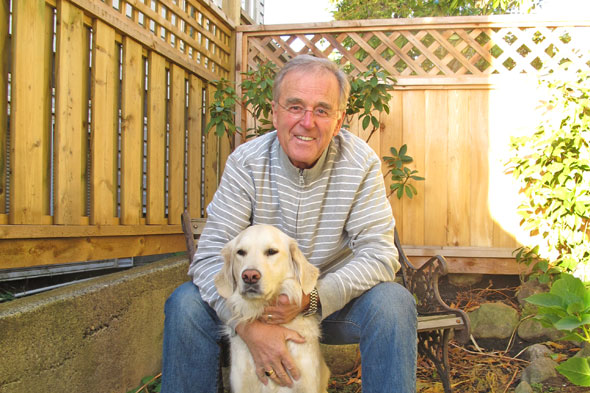 A few months back I urged you to read TDM's autobiography Mulligan's Stew, with the promise that if you did you would get a lot more out of the interview that we're publishing with him. Did you read it? The story of this legendary music journalist where he shares his life (so far) with us? From being an RCMP officer with a smalltown rock radio show in Alberta all the way to hosting a wine TV show with Jason Priestley, if you haven't yet I urge you to pick up this fantastic offering from and about one of Vancouver's treasures: Terry David Mulligan.
http://vancouverisawesome.com/2012/03/21/vancouvers-most-awesome-terry-david-mulligan/
He's the subject of a roast this Friday at Federico's Supper Club on Commercial, so I figured we'd publish this piece while the Mulligan iron is hot. Click HERE to learn more about the roast c/o Miss604.com and continue reading for some thoughts from Terry on why he returned to Vancouver, what he's been up to with Jason Priestley, and who his favourite Vancouver band of all time is.


With Josie in his backyard on the North Shore. Photo: Bob Kronbauer
So, why'd you move back to Vancouver?
Grandkids. Our kids are having kids and two of them are on Saltspring Island and, you know, Naramata Bench is four-and-a-half to five hours away from Vancouver and then Vancouver is another four, four-and-a-half hours to Saltspring, and that's a day. How many days have you got? You've got a couple, one day down, one day back, one day on Saltspring? That's just crazy. And also we have a grandson here in North Vancouver, or West Van. North Van, actually, and we just wanted to see them. And when you get to that point you just go "Well, there's no decision to be made. Let's go." That's it. Let's go.
So do you think you're back for good?
The only thing that I could see doing would be dividing our time between San Francisco, which we love, we lived there for four years, and Vancouver. And not specifically San Francisco. More like Napa or Sonoma – Vancouver. Because I'm going to continue to do the wine show, I hope, and we love San Francisco, crazy about San Francisco, but it's even more expensive than Vancouver. I think what we'll do is we'll spend most of our time here but we will spend maybe January, February, March there kind of thing…
Is that when you film your show, Hollywood and Vines? In February?
No, we shoot it when Priestley's got time, when he's not directing or acting and when Chad [their producer] isn't doing something.


Is it true that you originally met Jason at a celebrity fishing tournament?
Actually, we had seen each other before that at auditions. He would be going in to audition for the role of 'Son' and I would be going to audition for the role of 'Dad', or 'Brother.' But it was during that celebrity fishing trip that we just started to talk about doing a show. He had come to my house before the trip and he said "All those CDs that you've got." "Yeah?" "Well do they send them to you?" And I said, "Well, yeah. I'm playing them on the radio and they're promo copies and they want me to know about their music." "Wow. Free music. How about that." And we just sat there and looked at our rod tips for about 30 seconds. And then he went "Wow. Imagine if we did a wine show." And then another minute went by and then "Free wine?". We both looked at each other and went "Free wine. Wow! Free wine!" and that's exactly how it went. I mean we're out on the ocean; we've got all the time in the world. Just sitting there bouncing around. Free wine. Yeah!
So we started talking about it and then it all sort of started to take shape. And then he had his accident with his car on the racetrack, and it took more than a year to recover, walk and talk and speak, and just sort of move again. And then he said, "Let's go shoot the show.". So I was thrilled and delighted, and that's what we've been doing.
What was that fishing show you did… Terry and the Tiger? Was that a pilot or did you ever do more episodes than one?
It was a pilot. And I loved the show. Loved the show. It was myself and Tiger Williams, and our guest was John Candy.
[Laughs] Where's the pilot? Where is it?
I've got it somewhere. I'm probably the only one who has a copy.
Can I see it?
No, it's on 3/4 inch and I've got nothing to play it on. But I will, I'll make certain to make a copy so that people can see it. I might even pop it on the internet. I loved it. I loved shooting it. I loved the actual thing. The only thing I didn't like was the fact that the whole bust up of the guide shack in Campbell River. I tell you there must be people still telling the story of John Candy and Tiger Williams creating havoc one Saturday night in Campbell River. Can you imagine? And to get John out of bed and into a shower and into a boat so that we could finish off the show, that was the tough part. It was wild, it was WILD.
Would you want to do it again? Because I've thought about doing a modern fishing show that isn't geared towards professional fishermen like all of the shows are these days. Something more accessible.
There's only a couple of fishing shows that actually work, the rest of them just suck beyond belief. I just realized that to talk to John Candy in Hollywood would be tough, or New York or wherever, or on a movie set or whatever. To put him on a boat where he has no management, no agents, no lawyers, no nothing, just out on a boat, you get the best interview. Just get 'em away from their normal life, get them out, put a rod in their hand and let them drift. You know, you get stuff from an interview out there that you wouldn't get anywhere else. And very reflective. People start to think about their lives and their places in it. It's pretty cool.
What's the closest, best winery to Vancouver?
The best wineries here are California Cult Classics, which is in North Vancouver, below Marine Drive, in the industrial area. That's Frank Gigliotti's wine club and he brings his grapes overnight from Napa and he's bringing in Stagecoach and Beckstoffer. Two of the best growers, the best, the best of the best in Napa and he brings them up in a huge plastic sack, travel container, and makes HUGE wines, like BIG reds and BIG whites in this incredible winery that's right in the middle of the industrial area. And it's a wine club and when they first started I think the barrels were, like, $8,000. And you could buy the barrel and you could have all the wine that came from that barrel, that's a lot of bottles, right, and it was yours. On the face of the planet that's your barrel and those are your wines and the wines are like top, the best of the best. If you were buying these wines in a wine store they'd be 75 bucks, easily, maybe a hundred, hundred twenty-five, hundred fifty. And Frank started this club and now it's big time. I think those barrels may be $10,000 each now. And all the hockey players… two of them will go in together and get a barrel of wine. Between his wine and the winery in New Westminster, again in an industrial park that you would never see, it's called something Pacific [Pacific Breeze Winery], they're now winning wine shows with their wines. And they bring in their juice from other places as well. They're guys who had won every amateur wine contest on the weekends for a couple of years and then they said "Let's just start making wines" and they did. Wine people know them know now, because they've been winning awards.


Photo: California Cult Classics
What makes Vancouver awesome, for you?
Well, you have to understand that I'm seeing Vancouver with a whole different set of eyes. I grew up here. It was my home for many, many, many years. But I've been gone for four years in the Okanagan, so when you came back, you see Vancouver in a very different light. You appreciate Vancouver for what it is, but you have to go away. If you see if every day and you never see, you never have any comparisons, you might not miss it as much as I did. And I love the Okanagan and I'd still be there but we want to be grandparents, we want to be part of our kids' families. And so there's no question there, we're going to do that. But to come back to Vancouver and rediscover it, I just love the city.


TDM on the cover of Vancouver Magazine in 1987
What makes it great is, well, a day like this, which is beautiful. The pace of the city. The buzz of the city. The culinary adventure that is Vancouver food. I love the fact that when we get a day like this Vancouver gets outside. People know that it's going to rain on our heads tomorrow, so everybody gets out. Allan Fotheringham, who used to be one of the, used to write, uh used to live and work here, an incredible writer and then went to Toronto and never came back. He's still there. He said something, he used a phrase about Vancouver and he talked about the freedom at the end of the street. That means if you're standing downtown by the Hotel Vancouver or somewhere in that area, and you're surrounded by brick and mortar, and the city might be closing in on you, all you have to do is jus step out three steps and look down the end of the street and you've got Grouse Mountain, Seymour, Hollyburn, parts of Stanley Park, parts of the North Shore. There's freedom. He used the term "freedom." So, as much as Vancouver is getting built up, if you take the time to look there's an entire forest, entire region of, we built this city on the edge of a rainforest. It's there. Use it.
How many people live here and have never been to the top of Grouse Mountain? You know all the tourists go up there, that's one of the first things they do. How many people in this town have never been up there? Have never done the Grouse Grind or have never been to Lighthouse Park or walked UBC Endowment Lands. They just sit in front of their TV. I mean, come on. Come on. This is beautiful.
Here's what I do miss about Vancouver. And I notice it because I've been gone for four years. I'm going by lots now where there used to be really beautiful heritage homes and buildings. And now there's towers and parking lots and anything other than what was there. When you go to Portland, for example, and you see that Portland really tried exceptionally hard to hold on to their heritage. And they kept those buildings that we're tearing down. We were in such a hurry to build shit boxes like, well I can't point at…you know, just houses, stucco. Like in the West End? Stucco apartment buildings that are just horrific, ugly as sin. And then you see the heritages houses that are still in the West End and you think, "Ah man, how beautiful was this area?" Couldn't we have saved just a couple more buildings? Do ya think? And I'm astounded that Stanley Park survived. Astounded that there's not a condominium complex, that isn't like Manhattan.
Do you fish much, lately?
In my mind I fish every day! [laughs]
What do you fish for?
Trout. Off of Ambleside, and I'll go up the coast. I get really owly if I don't fish, because it's good for the soul. And I haven't, so I get owly just talking about it. I went trout fishing this summer, had great fun, but not near enough.
What's your favourite lake that's within a day from here?
Tunkwa. That's Tunkwa on the back of the book. It's above Merritt. It's between Merritt and Kamloops and Cache Creek. It's just outside of Logan Lake, the mining town. In the High Country and it's where they held the world fly fishing championships. And the fish, when they come out of the water, are 3, 4, 5 pounds, and you can hear them laughing at you.


TDM on Tunkwa Lake. Photo courtesy Heritage House.
What's your favourite new band from Vancouver? "New" can be 5 years.
Oh. [rubbing hands together] Ah man, I love Ryan McMahon. Really like him a lot as a singer and especially as a songwriter.
Favourite Vancouver band of all time?
I'm thinking it still might be The New Pornographers. Because, I mean, look at them. They're a world-class band now. A lot of bands. I love Chilliwack. Sarah McLachlan is not a band, but she chose to live in Vancouver. She lives here. Is Vancouver now, even though she was originally from the Maritimes. And so she's not a band but she certainly is an artist. So she'd be one of my top ones.
You know one of my favourite bands, absolutely flat out one of my favourite bands, was Trooper. 'Cuz they knew how to write a rock 'n' roll hook. And they nailed it every time. All those hits that they've got, you hear them in any NHL rink all across the country? Cool, very cool.
And D.O.A.. D.O.A. have always been there. And they're still there. So my pick is D.O.A. Even though I haven't seen them in years, haven't heard any new music or anything, I just love the fact that they've always represented Vancouver. And they have, one of their songs that they've always done is Lumberjack City, which is obviously about Vancouver.
Were you in town during the Olympics?
Yeah, we came down. We came down specifically to take in the sights and to take in the vibe of Vancouver. It was very cool.
Overall what did you think?
Very proud. Very proud. Very pleased that it all happened the way it did. It was incredible to watch the various crowds in the various venues pass each other, like ships. I had friends saying that something would come out of one venue and somebody would be going into another venue and they would all just pass, at intersections. It was like Disneyland, it was unbelievable. People will always have a fond remembrance of Vancouver and Whistler. It was just a great vibe.
If I was to give you season's tickets to one team in the city, which would you take? And I'm not actually giving you them, by the way. [laughs]
Well, it would be the Canucks, because those are the hardest tickets to get.
What's the best piece of advice that someone's ever given you?
My father: Don't take any shit. And he wasn't talking about the big guys. He was talking about all the blue-collar people you meet in a day and it only takes one miserable person to ruin your day. You walk up to a ticket counter or a coffee counter or a bookstore or whatever, you just run across somebody and they're miserable and they want you to be miserable as well. And he was just saying don't take any shit. Keep the laughter and the lightness in your day, and you'll be okay.
If I was to give you $100 right now where would you go and spend it?
I would take my wife and I would go to either Mangia E Bevi, the Italian place at 22nd and Marine in West Vancouver, or the Régalade, the French restaurant right next door. One of the two. That's what I would do.


Photo: Bob Kronbauer
Again, don't forget to check out Terry's ROAST this Friday!
Special thanks to Liisa Hannus for transcribing the ridiculously long interview that you see portions of here. It was loooong!