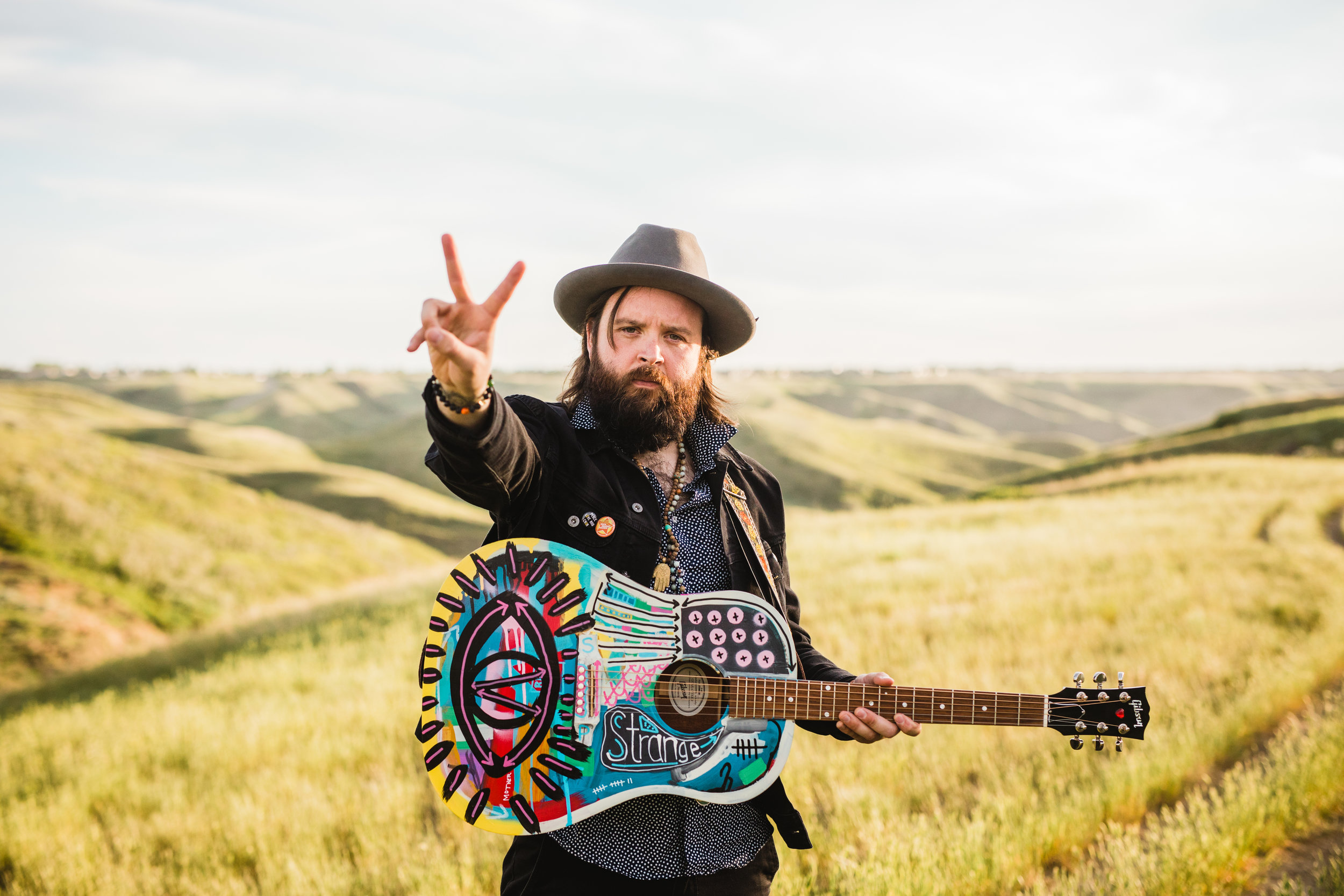 This week's very special interview guest is Leeroy Stagger bringing with him new music from his forthcoming album Dystopian Weekends.  Leeroy lets us know that unlike the last two albums he made for wider audiences. This one he made for him. Leeroy also talks about hosting Dirty Windshields on CKUA. It got him through the lockdown. Dystopian Weekends captures the sound of early Byrds, Clapton, Laurel Canyon.
Two stand-out songs – Buffy's song Greedy Guts and Black Teenagers.
That last song deals with the headlines this very weekend. The Floyd George Murder. 

Full disclosure – I jumped the gun on the release date. It's not coming out until well after Summer but as Leeroy says "the whole model of what is an album release has changed. Given Covid, lockdown, and technical innovations it's a whole new format. So, run with it."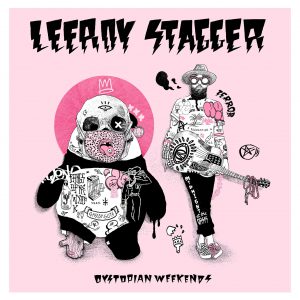 The complete interview can be heard on The Mulligan Stew Podcast. Right after the show.
The Festival Radio Series launched last week and it airs during the first 30 minutes of The Stew  –   so this is our second 90 minute Summer Show!
Those 90 minutes become very important.
If you check the playlist below you'll see we start with the co-host of Festival radio Dawn Pemberton. She's a sanger!!
Some "Live Butter"
Curtis Mayfield
The Band/The Byrds/Fats/Robert Plant/iskwe & Tom Wilson/Dusty/Beatles/Tony Bennett and k.d.lang.
---
Also a Frank Zappa Live album Zappa 88: The Last U.S. Show and the haunting doo-wop ballad Love of my Life.
Frank and I got to be pretty good friends.  I did maybe 6-8 interviews with him. The last was in his Laurel Canyon house. With young versions of Moon Unit and Dweezil running through the room.
The walls were lined with 1-inch recording tapes..100's of them. Each one a concert performance from somewhere. He was the best interview in rock – but you had to be prepped and ready because you were dealing with a very sharp mind and a bone-dry sense of humor.
Here are two shots of Frank and I.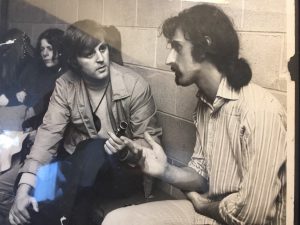 Me. Clean shaven and me years later – all hair. Frank was Frank.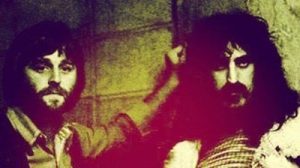 Here's to Frank Zappa.  Truly gifted and one-of-a-kind.
PLAYLIST:
| | | |
| --- | --- | --- |
| Mulligan Stew | June 26 2021 | |
| This is Mulligan Stew with TDMulligan | Interview Guest Leeroy Stagger – New album Dystopian Weekends | |
| Don't waste your time | Dawn "Pembie" Pembereton | Say Somethin' |
| Born under a bad sign (live) | Paul Butterfield Band | Live at the Troubadour |
| Road of Stone | Maria Muldaur and Tuba Skinny | Let's get happy together |
| People get ready | Curtis Mayfield | Berlin Sessions |
| Youngblood | The Band | til the night is gone. Tribute to Doc Pomus |
| www.deanehouse.com | https://river-cafe.com/ | |
| chestnut mare | The Byrds | Untitled |
| Bell Bottom Blues | Larkin Poe | Kindred Spirits |
| www.mulliganstew.cas | In 30 minutes – Leeroy Stagger Guests | |
| Uptown Lockdown | Steve Marriner | Hope Dies last |
| www.mulliganstew.ca | Coming UP – Fats. Amos. Frank & Rob (Domino.Milburn.Zappa.Plant) | |
| I want to walk you home (live) | Fats Domino | Live in Austin Texas |
| Sax Shack Boogie | Amos Milburn | Jump Blue |
| Love of my life (live) | Frank Zappa | Zappa 88 |
| Angel Dance | Robert Plant | Band of Joy |
| This is Mulligan Stew with TDMulligan | Coming UP – Leeroy Stagger Interview in 15 minutes | |
| Starless Nights | Iskwe and Tom Wilson | single |
| Son of a preacher man | Dusty Springfield | Dusty in Memphis |
| www.nobleridge.com | NEXT – Beatles. Tony Bennet and kdlang then Leeroy Stagger | |
| Here comes the Sun | The Beatles | Abby Road (2019) |
| What a Wonderful World | Tony Bennett and k.d. lang | |
| Leroy Stagger Interview with tdm | www.mulliganstew.ca | |
| More love than Money | Leeroy Stagger | Dystopian Weekends |
| Leeroy Stagger Interview | complete interview on MulliganStew Podcast | |
| Black Teenagers | Leroy Stagger | Dystopian Weekends |
| Leeroy Stagger Interview | complete interview on MulliganStew Podcast | |
| Greedy Guts | Leeroy Stagger | Dystopian Weekends |
| Leeroy Stagger Interview | details at www.mulliganstew.ca | |
| Does anybody live here | Leeroy Stagger | Dystopian Weekends |