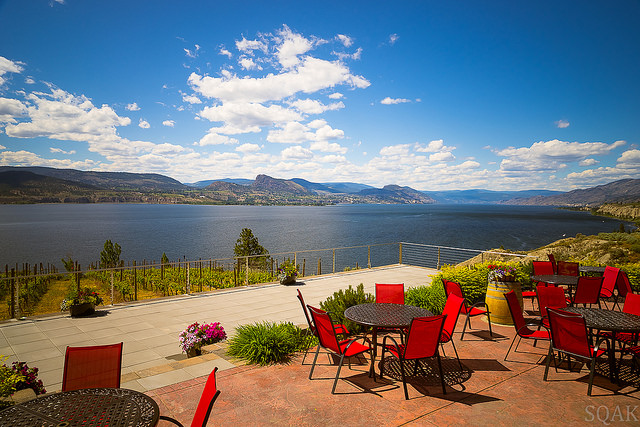 Spring wines from The Wine Diva. Summerhill Wines from Ezra Cipes. Naramata Bench wines from Val Tait at Bench 1775 and
New BC Wine Laws from lawyer Mark Hicken.

THE SHOW
Podcast: Play in new window | Download
Subscribe: RSS
We welcome
The Wine Diva Daenna Van Mulligen
..who's just back from Italy and from hosting the show at the  Vancouver Wine Festival.
Daenna Loves her lists.
This one is a slam dunk..
Wines for Spring
.
Daenna explains why these wines quality as spring wines and what it is we're all looking for in our wines at this time of year.
If you're feeling like its time to celebrate the change of season..read on!!
JoieFarm Riesling, Okanagan Valley BC $23.00
Blue Grouse Pinot Noir, Cowichan Station, Vancouver Island $23.00
Wild Goose Pinot Gris, Okanagan BC $18.95
Torley 'Chapel Hill' Pinot Grigio, Dunantuli Hungary $11.95
Spier 'Signature' Chenin Blanc, Stellenbosch South Africa $13.90
Delas Viognier, Vin de Pays d'Oc Franc $17.00
Okanagan Crush Pad 'Narrative White' Okanagan Valley BC $17.00
CedarCreek Estate Winery Pinot Noir, Okanagan Valley BC $24.95
La Jara Organic Prosecco Frizzante, DOC Prosecco, Veneto Italy $18.00
Spierhead Pinot Noir, Okanagan Valley BC $25.00
Intrigue Pinot Gris, Okanagan Valley $17.00 \
Haywire 'Pink Bub', Okanagan Valley BC $25.00
'Kono' Sauvignon Blanc, Marlborough New Zealand $15.99
The Girls 'Vivacious Rose', Okanagan Valley BC $20.00
Serendipity Rose, Okanagan Valley BC N/A
Wakefield Riesling, Clare Valley Australia $21.00
Anna Spinato Oragnic Rose Spumante, Veneto Italy $14.99
Famille Perrin Tavel, Rhone Valley France $25.99
Coldstream Hills Pinot Noir, Yarra Valley, Victoria Australia $34.00
Blue Mountain Vineyard and Cellars Pinot Gris, Okanagan Valley $21.00
TH Wines "By Hand White" Okanagan Valley BC $20.00
Mission Hill Reserve Sauvignon Blanc, Okanagan Valley BC $21.99
Poplar Grove 'Blanc de Noirs', Okanagan Valley BC N/A
Carmen 'Wave Series' Sauvignon Blanc, Leyda Valley Chile $14.99
Twin Islands Sauvignon Blanc, Marlborough New Zealand $18.99
Red Rooster Pinot Blanc, Okanagan Valley BC $16.99
St. Hubertus Chasselas, Okanagan Valley BC $19.50
JJ McWilliam's Pinot Grigio, South Eastern Australia N/A
Segura Viudas Rosado, Penedes Spain, NV $16.99
Wolf Blass 'Gold Label' Sparkling $26.99
Luis Felipe Edwards Chardonnay, Central Valley Chile $11.00
Corvezzo 'Extra Dry' Prosecco DOC Treviso, Veneto Italy $19.99
La Puerta Torrontes, Famatina Valley Argentina $13.00
Taylor Fladgate Fine White Port, Douro Portugal $21.99
Steller's Jay Brut, Okanagan Valley BC $24.99
Ferrari~Carano Fume Blanc, Sonoma County California $25.99
Laurenz und Sophie 'Singing' Gruner Veltliner, Austria $21.99
Stoneboat Vineyards Pinot Noir, Okanagan Valley BC $25.00
Casolari Lambrusco Di Sorbara DOC Frizzante, Emiglia~Romagna Italy $15.99
Edna Valley Vineyard Chardonnay 'Cathedral Coast', San Luis Obisbo County California $19.99
Jean-Claude Boisset Bourgogne Pinot Noir 'Les Ursulines', France $24.95
www.winediva.ca
Ezra Cipes   Summerhill Winery
 Ezra, one of three  sons  of founder Stephen Cipes came through Vancouver pouring his latest releases.
Summerhill is one of the iconic family owned wineries in the Okanagan.
As a wine destination,  for fans and the curious, Summerhill is quite simply one of the most visited wineries in Canada.

Ezra is proud to carry on the family legacy at
Summerhill Pyramid Winery
. Since the Cipes family moved from New York to Kelowna when Ezra was five, he has grown up with the wine industry around him, and learned it by osmosis.
After attending public school in Kelowna, Cipes embarked on a musical path, attending music college at Vancouver Community College.  Ezra felt the call back to the vineyard. Home on the family farm, Cipes initiated a half acre permaculture garden, selling vegetables and herbs to Summerhill's onsite Sunset Bistro. After reconnecting with the winery and the land, Cipes knew he needed to assume a greater role at the winery.
At Summerhill Pyramid Winery, Ezra Cipes is responsible for day to day operations, marketing, and leadership. He has completed courses in vineyard management and in permaculture design.
Summerhill is committed to producing 
100% organic wine
, and has received
Demeter Biodynamic
certification for their  Kelowna vineyard in 2012. Certified organic status was achieved in the  cellar in 2007, allowing them  to display the Canadian certified organic logo on their bottles, ensuring that a level of quality and purity can be expected by the consumer.
http://www.summerhill.bc.ca/
Val Tait – Bench 1775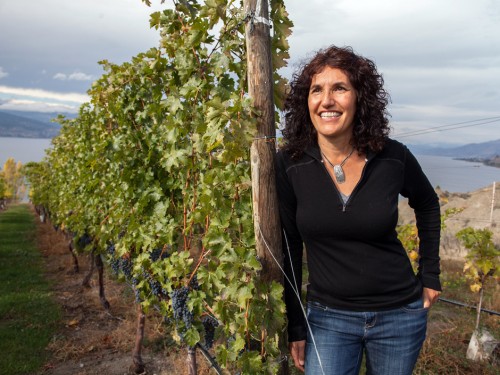 BENCH 1775 Winery is  so lucky to have  Valeria Tait as General Manager.
Not only is she a GM, she's also one of the most in demand viticulturists in BC.
Val oversees the
BENCH 1775
vineyards, winery operations, and guest experience. With wineries like Poplar Grove, Painted Rock and Mission Hill on her resume, Val brings a wealth of viticulture and winery experience to BENCH 1775.
And it was love at first sight for Val as well:  "It's so beautiful here. What really caught my imagination was this mind-blowing property with a spectacular deck and fantastic beach."
BENCH 1775
currently produces approximately 7,000 cases of table wine per year, and Val has set her sights on expanding and invigorating the existing vineyard program. Also in her sights is the Tasting Room & Patio at
BENCH 1775.
  "We want to over-deliver on quality while keeping our prices affordable," Val claims. "And, I'd like it to be fun:  a place for people to enjoy great wine, food, music and a fantastic view – a quintessential Okanagan experience."
They've really caught the wine buying public's attention with two easy going wines..
Chill and Glow..
Val takes us through those wines and then some.
Fabulous person. Fabulous wines.
Val Tait. Bench 1775
http://www.bench1775.com/
BC Wine Laws with lawyer Mark Hicken
What a mess.
April 1
st
brings new wine laws that will affect everyone.
Wine stores, wineries, restaurants and you,  the wine buyer.
From a legal standpoint, the most knowledgeable person I could ask to guest was Lawyer Ma
rk Hicken from Vintage Law Group.
He's been following the story for  years now. Understands the players and the dynamics.
Mark says an $8 bottle may cost between $7.65 and $9.19 with the new wholesale pricing model.
According to Mark's  number crunching, a $10 bottle may retail between $9.75 and $11.75 shortly. A bottle worth $15 now could retail anywhere between its current price to $18. A $20 bottle now may cost either the same or up $24.
Mark will try and make sense of this mess and I'll try not to foul the air with expletives!!
Podcast: Play in new window | Download
Subscribe: RSS
STORIES WE'RE WORKING ON
A great two winery pour in Gastown featuring Benjamin Bridge from Nova Scotia and Stratus from Niagara!!
Island Wineries…artisans from Vancouver island and Salt Spring pour their very best.