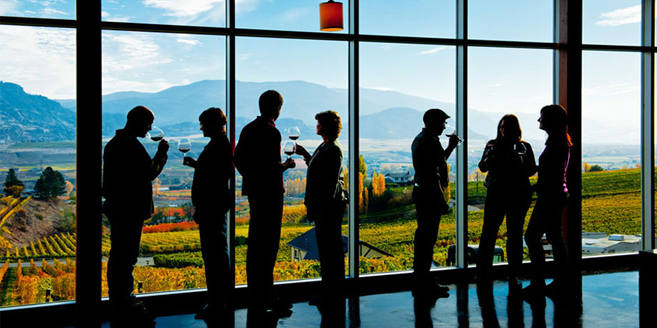 The Wine Diva kicks things off with two great Holiday lists. We talk to Warwick Ross who produced and directed Red Obsession..a beautiful documentary about Gran Cru Bordeaux wines and the Chinese fixation with  them. Then it's a swing through the Okanagan. Featured are The Cipes of Summerhill, The Luckhursts of Road 13  and Matt Sekeres of Team 1040   
Podcast: Play in new window | Download
THE SHOW
 Daenna van Mulligen – The Wine Diva is wrapping up 2013 with a flurry of lists. www.winediva.ca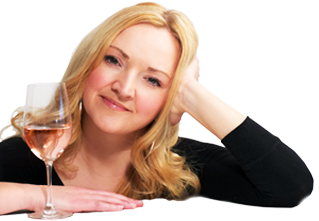 This episode features the first two bottles of the 12 days of Christmas. Then its Wine for Holiday Dinners.. No matter what you're eating..protein, vegetarian, vegan, goth, Mediterranean or  whatever The Diva has the perfect pairing partner for you. Check out the Master List below or go to her Holiday website www.winediva.ca
WineDiva, Wine List – Wines for Holiday Dinners
1.
Schug Pinot Noir, Carneros California
$36.99
2.
Balthasar Ress Hattenheimer Schutzenhaus Riesling, Rheingau Germany
$23.99
3.
Blue Mountain Vineyard and Cellars Brut Rose, Okanagan Valley
$33.00
4.
Synchromesh Riesling Thorny Vines Vineyard, Naramata Bench BC
N/A
5.
Cono Sur Organic Pinot Noir, Colchagua Valley Chile
$15.49
6.
Wente 'Morning Fog' Chardonnay, Livermore Valley California
$18.99
7.
Louis Latour 'Ardeche' Chardonnay, Coteaux de l'Ardeche France
$14.99
8.
CedarCreek Platinum Riesling 'Block 3', Okanagan Valley BC
$25.00
9.
CedarCreek Estate Winery Pinot Gris, Okanagan Valley BC
$18.00
10.
Belle Glos 'Dairyman Vineyard' Pinot Noir, Russian River Valley Sonoma California
$45.00
11.
Sperling Vineyards 'The Market White', Okanagan Valley BC
$16.00
12.
Dominio del Plata 'Crios' Torrontes, Argentina
$15.99
13.
Painted Rock Chardonnay, Okanagan Valley BC
$27.00
14.
Edna Valley Vineyard Chardonnay 'Paragon', San Luis Obisbo County California
$19.99
15.
Fabiano LeCoste Soave DOC Veneto Italy
$15.00
16.
Jorge Ordonez 'Botani' Moscatel Seco, Sierras de Malaga DOC
$24.95
17.
Sula 'Dindori' Reserve Viognier, Nashik India
$18.49
18.
Josef Chromy Pinot Noir, Tasmania Australia
$29.99
19.
Belle Glos 'Oeil de Perdrix' Pinot Noir Blanc, Brugioni Vineyard, Sonoma Coast
$26.99
20.
Tinhorn Creek Pinot Noir, Okanagan Valley BC
$22.00
21.
CedarCreek Pinot Noir Rose, Okanagan Valley BC
$18.00
22.
Focus Riesling 'Intrigue Wines', Okanagan Valley BC
$20.00
23.
Stoneboat 'Piano' Brut, Okanagan Valley BC
$23.00
24.
Delas Saint-Esprit Cotes-Du-Rhone France
$18.99
25.
Quails' Gate Gewurztraminer, Okanagan Valley
$16.99
26.
Gazela Rose, Portugal
$10.99
27.
La Vieille Ferme, Cotes du Ventoux Rose, France
$12.99
28.
JoieFarm 'A Noble Blend', Okanagan Valley BC
$24.00
29.
Tinhorn Creek Gewurztraminer, Okanagan Valley BC
$18.49
30.
St. Hubertus Chasselas, Okanagan Valley BC
$19.50
31.
Clos du Soleil Grower's Series Pinot Blanc, Similkameen Valley BC
$20.00
32.
Balthasar Ress "Green Label' Riesling, Rheingau Germany
$20.00
33.
Whitehaven Pinot Noir, Marlborough New Zealand
$23.99
34.
Roscato Rosso Dolce, Pavia Lombardy Italy
$0.00
35.
Haywire Gamay Noir, Okanagan Valley BC, 2011
N/A
36.
Segura Viudas Brut Reserva, Penedes Spain, NV
$16.99
37.
Cono Sur 'Bicicleta' Gewurztraminer, Bio-Bio Valley Chile, 2012
$10.99
38.
Yalumba 'Y Series' Viognier, South Australia, 2011
$17.99
39.
Gabbiano Pinot Grigio Della Venezie, Veneto Italy, 2011
$12.99
40.
Mezzacorona Pinot Grigio Vigneti Delle Dolomiti, Italy
$15.99
41.
Michel Torino 'Cuma' Organic Torrontes, Cafayate Valley, Argentina, 2011
$13.99
Wine list was prepared by www.winediva.ca
[divider] Red Obsession is a hell  of a documentary.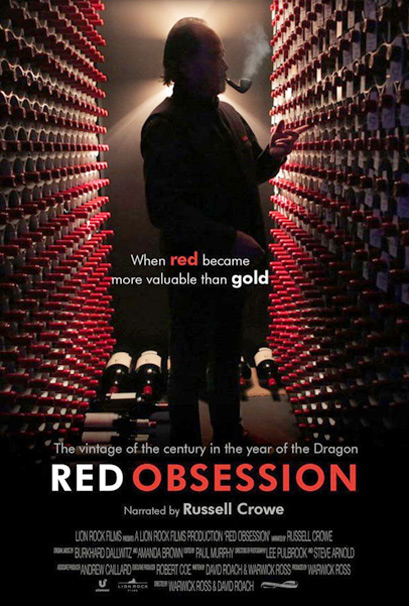 Narrated by Oscar-winner Russell Crowe, this stunningly shot and wildly entertaining documentary chronicles the history and changing nature of the French wine industry. For centuries Bordeaux has commanded a mythical status in the world of fine wines as a symbol of wealth, power, and influence. Prices for its prestigious red wines have been breaking records with the emergence of an ever-growing Chinese market that is changing the nature of wine in the 21st century. Featuring interviews with collectors, connoisseurs, and winemakers, the film presents an eye-opening exploration of the complexities and unpredictability of the global market, economic effects, and influence of the voracious wine-obsessed collectors of China. For better or worse, Bordeaux is hitching itself to this new, infinitely wealthy client. Our feature interview is with the Producer/Director Warwick Ross. Backstage at the Rio Theater in Vancouver.  Interviews included in the film include
Yue Sai Kan – Self-made billionaire, TV host, cosmetic tycoon
Peter Tseng – World's largest manufacturer of sex toys
Richard Shen – Owner of Tesiro Jewelry
Francis Ford Coppola – Film director & owner, Inglenook
Michael Parkinson – British Broadcaster
Robert Parker – Leading international wine critic
Jancis Robinson – Leading international wine writer and Master of Wine
Oz Clarke – Leading international wine writer [divider]
Now we're headed for two stories in The Okanagan  The Family Cipes.

I met
Stephen Cipes and 3 of his four sons  Gabe, Ezra and Ari
as they passed through Vancouver
.
They had much to talk about..
Summerhill Pyramid Winery's Cipes Rose
received a
gold medal
and was named as a top world wine at the
Effervescents du Monde,
judged in France Nov. 13 to 15.
It was the only North American sparkling wine to place in the international competition. This is a great round table discussion between a founding winery  Father and the Sons he passed his winery on to.    
www.summerhill.bc.ca
[divider]
I love talking to Pam and Mick Luckhurst  of Road 13,
just South of Oliver on the Golden Mile.
Golden Mile Cellars was acquired by the Luckhurst Family in the fall of 2003. Along with a great team and winemakers
Michael Bartier
and now
JM Bouchard,
they have created a go-to destination and very popular wines. Just like the Cipes, Mick and Pam are now working alongside their son Joe! Also.. in a business that likes to talk without actually saying anything..the Luckhursts give straight up answers..with NO BS. Gotta love that.
http://road13vineyards.com
[divider]
Matthew Sekeres
 began  a new chapter in his broadcast career as co-host of the all new
Sekeres & Price Midday Show on TEAM 1040.
Formerly the The Globe and Mail's national sports correspondent in Vancouver.
Matt was born in Montreal and raised primarily in Ottawa, Matt has worked for three dailies and for TSN, covering Stanley Cup playoffs, Super Bowls, Olympic Games, Grey Cups and NBA Finals. He moved to Kitsilano, Canada's best neighbourhood, in 2007, and enjoys travelling, music, entertaining and scuba diving in his spare time. He admits to knowing almost nothing about wine..but is very comfortable around beer and great food.
His comments to me about the day he was on air when the Boston Marathon bombings took place are revealing and heartfelt.
He's OK with drinking Pink.
He's OK with being labeled as a
"swashbuckler"
by his broadcast partner
Blake Price.
He OK with his Mother implying he can sometimes be a
"loudmouth".
His Mom understood when Matt explains he gets PAID to be a loudmouth.
And finally..Matt Sekeres is the first person in 6 years of Tasting Room Radio to recommend a wine that cannot be found by Google Search.
Please join us for the first of several 'inside Team" interviews. We start with Matt Sekeres…
That's  MATT with two T's  –  SE-KE-RE-S
@mattsekeres
STORIES WE'RE WORKING ON:   
Ethan Hawke – Actor. Director. Food and Wine Fan
Chefs David Hawksworth & Suzanne Goin – talk food, books and …food!!
Nicolo D'Afflito from Frescobaldi 
Stefano Chiarlo at the PALAS Cerequio La Morra in Barolo Jorge Riccitelli –  (Norton) World Winemaker of the year 2012
Alberto Antonini and David Scholefield compare their 2011 Haywire wines to the new 2012's. It appears the Okanagan is growing UP!!